The true secret to kissable lips that last all day
Updated: Feb 2, 2020
I think we can all agree that our lips are an important feature in our face and we want to reach several things when we apply lipstick:
- We want to put a flattering color that stays in place.
- We want to have juicy, kissable lips that are irresistible to him.
Especially when we are a bride or go to a special event we want our lipstick to stay in place also if we kiss people and consume food and beverages.
Well, humanity can fly to the moon and soon to Mars, one would think that long lasting lipstick shouldn't be a great deal and the cosmetic industry constantly comes up with new products to "solve" this problem but honestly I don't think they are doing such a great job with it as their commercials try to sell us. I think mostly it is a money grab to trick us into buying more and by trying to solve one problem they create multiple others to deal with.
It's 2020 and there are tons of long lasting lipsticks on the market but let's face the hard truth:
While they might last longer they never fully hit all our check boxes.
The problems I see with long lasting lipsticks:
They might be long lasting but dry AF. Dry and flaky lips are not attractive and the opposite of kissable and let me tell you that photographs horribly. It will show in all media formats and if you hire a videographer to collect all your moments for eternity then "haval al hakessef", it's a total waste of money.
They are often long lasting around the lip line and crumble to death in the center of the lip as soon as we eat or drink. No bride wants to greet her guests and smile in her wedding photos with dry, flaky lips and an obvious ring of color around the mouth.
They smell unpleasantly and feel uncomfortable to wear like a film that doesn't breath. That can't be healthy.
You need to nail your application in the first approach because the formula dries very fast and doesn't leave much room to fix mistakes.
Most importantly they can't be touched up and once a long lasting formula goes south you need to remove the whole lip and reapply. Depending on the lipstick company this can be impossible without ruining the whole makeup look.
In the worst case scenario going with a long lasting lipstick on your wedding day can backfire and cause more maintenance throughout the day than you anticipated and if your makeup artist uses this formula she can't give you a suitable touch up version and if you start mixing several products of different colors together and just layer them on top of each other, oh lord ...Nay! Not a great idea!
Now you are probably thinking: "Great, Katrin. You've ruined long lasting lipstick for me but what should I do instead?"
Here's what I think about it.
First of all let me tell you: "Don't try too hard. Too much on the mouth will go south.".
Less is more.
Meaning we want to reach kissable wedding lips by using less product.
A good lip liner topped with gloss or a great hydrating lip oil will give you a juicy, full and kissable pout that he looks at and can only think about one thing he wants to do with you right on the spot.
In general my brides tend to favor more nude lip colors and if the formula wears off it is less visible to the eye.
BUT: There is an old school trick to make a classic lipstick formula long lasting. Yes, it's old school and artists use it since eons. It's simple. You need to set classic lipsticks with powder. You only need to add two simple steps in your lip application to reach amazing results and it also works for every day. Though setting lipstick can be drying, if you use a badass lip prep prior you will not have issues here.
The bulletproof lip tip to sexy, kissable wedding lips


Prep:


When you start the makeup routine put a good lip moisturizer in a thick layer on your lips like a mask. You can go fancy or keep it simple by just using plain old vaseline or labello. Let it sit for at least 5 minutes.
Wipe the lip mask off and check if the lips are hydrated and the surface smooth. If the lips are very chapped I suggest using a sugar lip scrub. My favorite is the one from Be with strawberry flavor. Now you've created the perfect base for any lip application.
Step by step:


Take a lip liner that is close to your lip color or the lipstick you are going to use and line your lips. After you've mapped out the shape, apply the liner all over your lip and make sure that you have one thin and even layer of lip liner. You could stop there and just wear the lip liner. It has less oils and more waxes in the formula which makes it adhere better to our lips or you can proceed.
Apply the lipstick evenly on your lips. I suggest you will apply your own lipstick straight from the bullet. A makeup artist will use the sanitary application with a lip brush. You could also use a lip brush because this application technique makes the lipstick already more lasting but it also needs some practice to apply lipstick with a brush. Honestly you could even use your fingers.
Now take a tissue and separate the layers. Take one thin layer of paper and blot your lips carefully. Then place the second layer of paper on your lips and apply face powder with a brush or cotton pad on your lips. The paper will absorb the oils from the lipstick and the powder particles will close the surface setting the color in place.
If you powder the lipstick directly it can work but you risk to move product around and also the brush would get stained and it is hard to remove creams from powder brushes.
Better use the tissue option.
Remove the paper and check the result. You can reapply lipstick and repeat the last step until you reach your preferred look.
Nobody ever said that lip liner has to be used under lipstick only. You can take the lipliner and retrace the outline of your lips above your lipstick.
Done!
This lip will look stunning in photos and in real life and it will wear off slowly and most importantly evenly.
It will need touch up throughout the day but all you need is to reapply a quick layer, blot carefully and your lips will look perfect again. If you are touching up you will only need to blot with tissue. You can skip the powder part.
Conclusion
No matter what we do, we need to touch up our lips once in a while but to use a chic, classic lipstick straight from the bullet always gives me a luxurious Audrey Hepburn moment.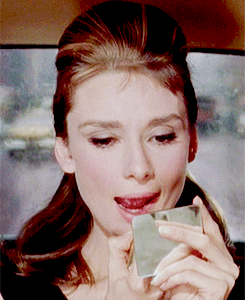 I think that long lasting lipsticks can be a good option for daily wear and some are not so bad but for special events the classic lipstick is the prettiest and the smartest option.